The Ace FuelSafe line was introduced as a safe, reliable and sensible option for the discerning owner/operator who prefers a durably designed system that will safely transfer fuel from point A to B with minimal complexity. Our FuelSafe systems are designed and built by service personnel who have maintained fuel system equipment in the field and have a deep appreciation for reliability and simplicity in fuel system design.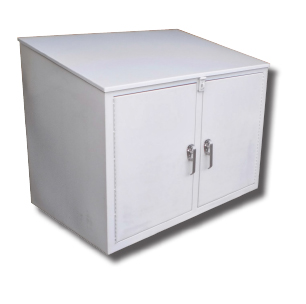 Cabinet Dispensing Systems:
Ace FuelSafe dispensing and pump cabinets are fabricated with the end user in mind. We understand you may have distinctive requirements for your fuel system, so we design our systems to accommodate our client's unique requirements with durability and ease of maintenance in mind. Each system is designed after our sales engineers consult with you to determine your system requirements. Our sales team will help you determine the appropriate pump size, meter, reel, electrical and filtration requirements for your system. FuelSafe cabinets receive a standard powder coat finish, piano hinge doors and lockable door handles. Ace can include leak detection, lighting, extra reinforcement and electrical controls as needed to make certain your system is complete and ready for service once it shows up on-site. Ace can also mate up dispensing cabinets with our fuel storage systems for a complete fuel storage and dispensing system. Please call our sales staff to discuss your unique requirements.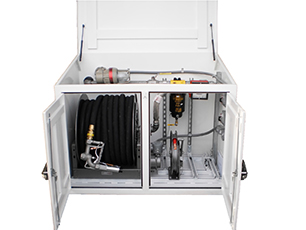 Dispensing Cabinet Package:
Includes:
• Powder Coat Interior and Exterior Finish
• Piano Hinge Doors with Lockable Handle
• Filter with Particulate Element
Options:
• Pump System (Specify Voltage and Pump Selection)
• Water Blocking or Coalescing Element
• Meter (Specify Digital or Mechanical)
• Lighting
• Spring Rewind Hose Reel with Hose
(Specify Line Size and Length)
• Electric Rewind Motor (Specify Voltage)
• Roller Assembly with Hose Stop
• Grounding Reel (Specify Length)
• Nozzle with Swivel
---
Ace FuelSafe Cabinet Dispensing Package Specification:
• Powder Coat Finish System inside and out.
• Sturdy Piano Hinge Doors with gasketed enclosure.
• Lockable Door Hardware with oversized handles for cold weather operation.
• Reinforcement as needed to support equipment
• As built/ spec sheet holder
• Watertight piping and conduit penetrations
• Ace QC certification
---
Examples