The Ace FuelSafe® remote fill system is a safe and effective way to fill remote tanks and prevent spillage.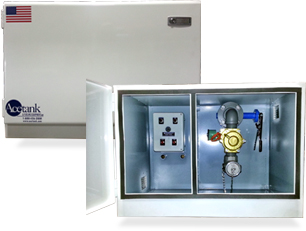 The FuelSafe RFI series includes all valves and fittings necessary for hose connection from a pumper truck to the fill system. The spill containment box includes a double-hasp lockable enclosure with a durable powder coat finish and split compartment for controls and fill line. Conduit and piping penetrations are included as part of the package, minimizing cost impacts at time of installation.
Each unit can be ordered as a surface-mounted unit, flush mount, with legs or pedestal to accommodate any site condition. The controls are simple and designed to interface with a two point level switch for annunciation and valve actuation. Please contact us if you have any more unique remote fill needs as we have provided many successful custom applications.
---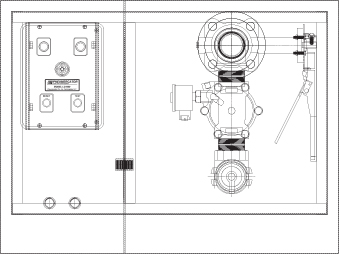 Installation Configuration (yyy):
IWM – In-Wall Mounted Configuration
SWM – Surface Mounted Configuration
PRM – Pedestal Mounted Configuration
LRM – Leg Mounted Configuration
Discharge Orientation (zzz):
PDT – Top Oriented Discharge
PDR – Rear Oriented Discharge
PDB – Bottom Oriented Discharge
* 3" Remote Fill Systems – Special Order
RFI-E-C-wx-yyy-zzz Includes:
5 Gallon Dual Compartment, Single Door, Remote
Spill Container with (Specify) Discharge
Mechanical Remote Overfill Prevention Valve
(Optional) "E" becomes "F" if selected
Normally Open Solenoid Valve (Specify Voltage)
Kamlock Check Valve with Dust Plug
Mechanical Butterfly Valve
Two-Point Alarm Console w/ Level Switch
Discharge Connection(w)/Pipe Size(x):
(2) 2" Schedule 40 (Specify Piping Connection)
(3) 3" Schedule 40 (Specify Piping Connection)