Ace FuelSafe Day Tank systems are designed to seamlessly integrate with other Ace FuelSafe systems to include bulk storage systems, pump sets, fuel maintenance systems, tank monitor systems and filling systems.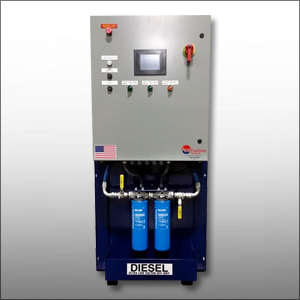 FuelSafe Day Tanks integrate a bulk tank of a required capacity with a level controller and fill control. Integral supply (fill) pumps and return pumps are typical. Remote fuel supply systems are available for management of multiple bulk tanks, filling of multiple day tanks, or when required by pipe run limitations.
Controllers are UL-508A listed, NEMA 3R, 4, 12 indoor/outdoor. Hazardous location controllers are available. Controllers are PLC based with a touchscreen interface and are network compatible. Appropriately sized atmospheric and emergency vents for both primary and secondary compartments are included as standard.
FuelSafe systems include overflow return pumps as a standard offering. The Infinite Loop Overfill Prevention System (ILOP) and Fuel Filtration/Maintenance systems are offered as options.
Recommendations
• Fuel oil supply lines should be sized to not exceed more than 20 inches of mercury as measured at the pump inlet manifold.
• It is very important to carefully size the fuel oil supply and return lines to minimize the friction losses and not exceed this restriction.
• It is recommended to install a foot valve in the supply line for priming purposes. It is also recommended to install a fusible link valve and anti-siphon valve in the fuel supply line at the high point in the system.
• To minimize friction losses a solenoid actuated anti-siphon valve may be used in lieu of a mechanical valve.
Each System Includes:
• Double Wall UL-142 Mild Steel Tank w/ Industrial Powder Coat Finish
• UL-508A Digital PLC Based Pump Control Panel
• 5-Point Level Switch (High, Pump Off, Pump On, Low, Critical Low)
• Leak Sensor
• Tank Venting Package
– Atmospheric Vent, Emergency Vents
• Manual Gauge Stick Port with Wooden Gauge Stick
• Day Tank Fuel Oil Supply Package:
– Suction Stub, Foot Valve, Flex Connector, Manual Isolation Valve
• Day Tank Fuel Oil Return Package:
– Flex Connector, Maintenance Isolation Valve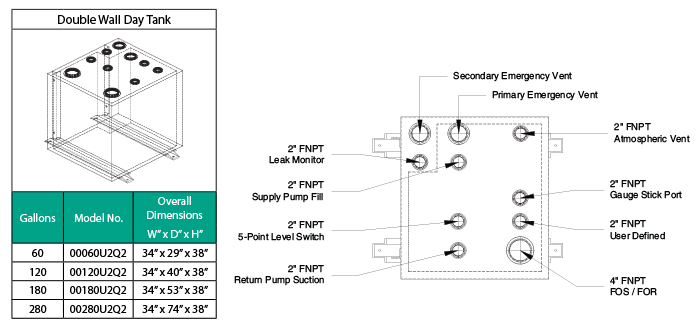 ---
Pumps
Rugged Ductile Iron Construction Positive Displacement
Includes:
• Compact close-coupled design
• Stainless steel shafts
• Durable steel helical gears provide quiet operation
• Process lubricated carbon graphite bearings
• O-ring cover seal for maximum leak protection
• Buna Lip Seal -standard
Inlet Manifold
Includes:
• Y type suction strainer with bottom cleanout and plug
• Priming Tee with riser pipe, isolation valve and dust plug
• Vacuum gauge with isolation valve
Return Manifold
Includes:
• Foot valve with strainer
• Isolation valve
---
Controls Package
The end user is always kept in mind when we design our control systems for ease of use and reliability. FuelSafe control systems use off-the-shelf hardware for reliability and ease of replacement. Each input and output is independently fused for increased reliability and ease of troubleshooting, the terminal strip layout is presented consistently for ease of installation, and the field wiring is clearly indicated in our drawing sets. Each system is run through a quality control program to ensure a trouble-free experience in the field
Includes:
• UL-508A listed PLC driven control system in a NEMA 4 enclosure
• 6" color touchscreen interface that includes system graphics, level, pump, valve status
• Lockable disconnect switch
• Power available pilot light
• Lamp test/silence push-button
• Reset button
• Manual-off-auto switch for each pump
• MODBUS and BacNet Communication Available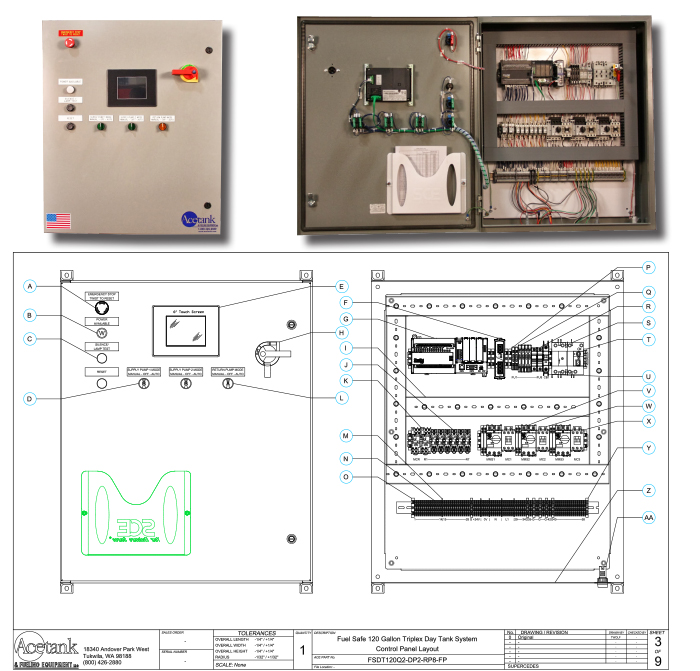 ---
Day Tank System Options
Fuel Maintenance
Fuel Maintenance (water and particulate removal) packages can be offered in a stand-alone configuration or as part of the FuelSafe Day Tank package. This option includes fuel filtration skid as integral part of day tank system eliminating the need for added infrastructure required to support a standalone fuel maintenance system, eliminating system complexity and minimizing cost impacts to the project.
The integral fuel maintenance system allows for the use of existing fuel supply and return lines as the fuel supply pumps act as both the prime mover for the fill operation and the fuel maintenance cycles. This ensures clean fuel, regular exercise schedules for supply pumps and minimizes installation complexities.
---
Fuel Oil Supply & Return Package
Includes:
• Quad-tap bushing for supply, and return
• Supply line suction stub (Foot Valve Optional)
• Anti-syphon valve
• 50% Return Drop Tube
• Full Port Ball Valves with Locking Handles
• Stainless Steel Flex Connectors with Swivel Adapters (shipped loose)
• 165°F Fusible Gate Valve (shipped loose)
---
Infinite Loop Overfill Protection System
Our proprietary Infinite Loop Overfill Prevention System eliminates the need for complex reverse overflow pumping systems. Our system uses supply pump pressure to safely return fuel back to the main tank without relying on another level switch to start a reverse overflow pump.
Continuous Level Sensor
Continuous level sensor with 4-20mA loop output for tank numeric display of tank level in gallons (liters) at touchscreen and output for building management system.
Pump Sizing
Oberdorfer pumps are continuous duty gear pumps designed for years of worry-free reliable service. Our day tanks are UL-142 double wall tanks with a primer undercoat and powder coat finish layer. All plumbing and electrical is designed for ease of access for future maintenance and inspection.